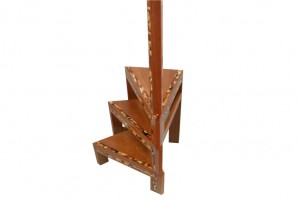 Etz-Ron is now offering reduced price shipping within the continental United States for most single items.  Heavier items may require an additional shipping charges.
Many customers ask, "Why is shipping so expensive?"  Etz-Ron is located in Israel, and that means international air shipping.  Postage rates have skyrocketed recently.  We have no control over that!  In addition, Etz-Ron's shipping rates include packing up your package so that it is not damaged during it's journey to you, and waiting in line at the post office to send it out, emailing you with the info when I finish at the post office.  The rates you see here for shipping do not accurately reflect the time it actually takes me to get your package out!
Shipping is via airmail from Israel. Some items are pre-placed.  Etz-Ron always contacts you when you make an order.  Etz-Ron will let you know, via email, the status of your order, and when your order has been shipped.  If the item requested is in stock, your order will go out within a day or two. Shipping may take up to three weeks from the date of your order, but it usually arrives to an US address with a week to ten days of shipping. If you need an item sent express, please contact me for pricing.
*During Covid-19, shipping times can be erratic, and your patience is requested.  Generally, shipping times are similar to the period before Covid.   But, there are always exceptions which are outside of our control.*
Here at Etz-Ron, we  try to be as environmentally conscious as possible.  We will be using recycled shipping boxes and recycled packaging  whenever possible.
Prices within Israel include VAT and standard shipping via Israel Post.
Sale items cannot be returned or exchanged.
All orders must be shipped to a street address. PO Boxes will not be accepted. Etz-Ron assumes responsibility for shipping to the address as it was given in the order.
Israel has free trade agreements with many countries, including the United States, generally eliminating the concern for customs, duties or tariffs. Etz-Ron has shipped items to the U.S.A. in the past, and there have been no additional charges.  However, in some states or countries, there may be additional charges for customs, duties and taxes, which may be levied once the package reaches its destination.  Etz-Ron is not responsible for these charges.  Customs policies vary from place to place, and you may want to contact your local customs office for further information. If you have any questions, feel free to contact me.
International Shipping
Etz-Ron can ship internationally to most countries. There may be an additional international shipping fee.
Contact Me for the exact pricing of your order for shipment to countries other than USA and Israel.
Priority Mail, Express Shipping, Next Day Shipping
Priority Mail and/or Next Day Shipping are available for an extra fee when available. Contact me for exact price quote and availability.
*Reduced Shipping to continental USA for mANY

single

items.
Large orders, heavy, and over sized items will require additional shipping charges as do orders to Alaska, Hawaii, Australia, Canada, Europe, New Zealand,  and everywhere else.
Save