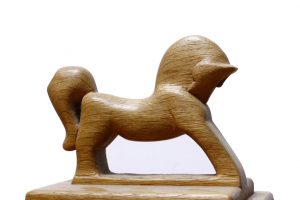 My journey into woodworking began when I was in high school and was casting about for something to do with my life. I had a feeling I would enjoy working with wood, but no experience. Much later, I found out that when I was very young, my father won a woodworking prize for making a kitchen island that was featured in a national magazine. So maybe woodworking is in my genes.
I followed up on my idea to learn woodworking by taking introductory classes in woodworking in the industrial education department at my university. It was my first glimpse into real wood working. I loved it.
Near the end of my freshman year at the university, I got a letter in the mail, inviting me to spend a year in Israel, promising me "the most exciting year of my life". I went, and it was! I lived on a kibbutz for a year, caring for the communal gardens, worked in agriculture, and went on hikes the length and breadth of Israel. I experienced living in a different culture for the first time.
Back in the USA to finish my BA degree, I heard about a program, in which I could learn woodworking in Europe. My new Scandinavian friends at the university told me I could set up my program myself in Norway, and save myself lots of cash, so… I did.
I took classes in the Swedish language ( the closest language to Norwegian offered), finished my degree, and I worked until I had enough money to travel. I secured as job as an au pair to a family with young children in Oslo to learn the language. Off I went without having been accepted into a woodworking school. My parents thought I was nuts. I was optimistic.
Finally, I was accepted to a Kunsthandverksskule (trade school) in Spjelkavik, Norway. That's in fjord country ( so pretty). It was in Spjelkavik that I learned all about wood and trees, how they grow, how to work wood, and more. Later on, I got a scholarship from the American Scandinavian Association ( thanks!) to study woodworking.
The following school year I moved to Voss, Norway, and studied at Voss Kunsthandverksskule. There I learned the traditional carving of Norway, and how to make a large loom.
A year later, I was back in Israel, woodworking first on a kibbutz, and then in Jerusalem. I was the first woman woodworker ever hired by the company, which later outfitted the extensive woodwork in the Supreme Court Building of Israel. It is still an architectural landmark in Jerusalem, well worth a visit if you like beautiful buildings.
After four years living outside of the USA, I returned,and worked in a small wood shop, then a bigger one. I joined the cabinetmakers union. After meeting my husband, we decided to return to live in Israel.
Thirty years ago I set up my studio, first in the porch of our apartment, then in a bomb shelter, and finally above ground when we moved to Beer Sheva. I still love working with wood. The field is so broad that there are always new areas to explore. This year, in addition to running my studio, I also volunteer one morning a week, teaching woodworking to injured soldiers. I continue to find new ways to demonstrate my love of working with wood.