This is the story of how I came to repair the door shelves on our refrigerator.
Make it from Wood!
We bought our Samsung Fridge in 2009,  It was an old model when we bought it.   By the time our first door shelf broke there were no spare parts to be had anywhere,  even on the internet.  The law requires that parts be kept in stock 7 years after the purchase, but there were no part!  Of course we didn't know any of that at the time of our purchase.  We bought the fridge because we liked the features it had: a water kiosk and an ice maker.
The fridge itself  still works well, but the plastic parts are not holding up.  One by one the plastic  door shelves have failed, always in the exact same place.  I used wood and tape contraptions to try to hold them together, but this week the fourth one broke. That was the one that was supporting all the rest.   It was time to redo them all,  from wood, of course.
Not an Easy Build
The build was not an easy one because it was too complicated for me to draw with the compound curves on the door and on the door shelves.  I like to work off drawings whenever I can, as my work is more efficient.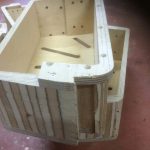 I started by cutting and assembling a prototype. I used quality plywood for maximum stability.  Then, I took the piece home to check if the fit was correct. And tweak and repeat.  When I finally got it right,  I went ahead with the other 3 door shelves. For the finish I applied two coats of paint and 2 coats of polyurethane.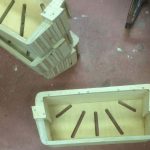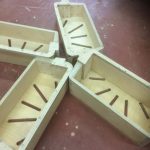 Well Worth the Time
In the end, the fix was well worth the time.  It is surprising how much valuable  fridge space a working door shelf holds!  I feel as if my fridge is almost  new!  And I don't have to worry about these new pieces breaking!