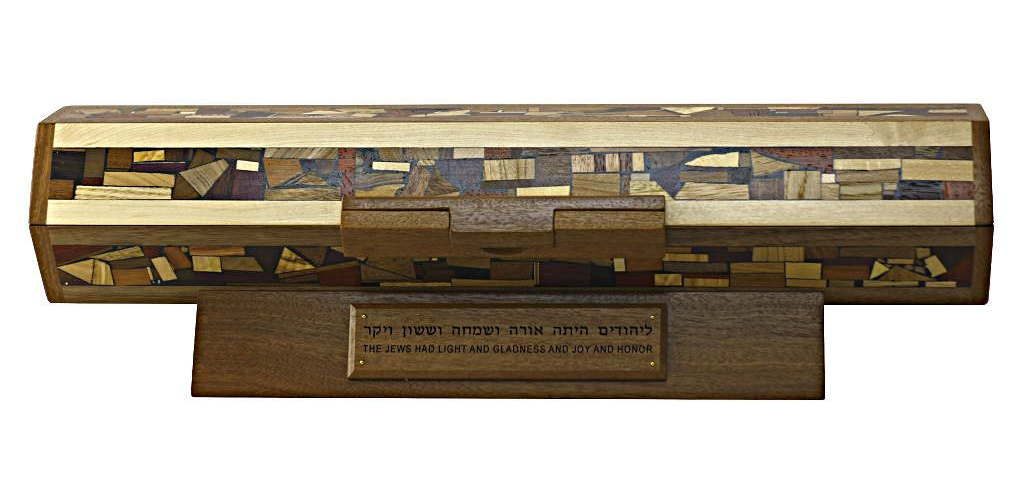 Family Heirloom Megillah
Austin Clar approached me via email to make a megillah case for his family heirloom megillah parchment, the scroll of Esther.
"Our megillah is about 120-150 years old, written in Ukraine for one of my great, great, great, great, etc. grandfathers. My father (a rabbi) and many generations before him (all but one of which were rabbis themselves), are direct descendants of one of the disciples of the Baal Shem Tov. One of them had a set of megilot written and this is the one that has survived, through WWI, WWII, and into Israel, before it was given to my Pop.…If we could have seen the world that it (this parchment scroll) has seen!"
He wanted a more honorable place to to keep his scroll while it was not being used.  He wanted to create a case in which to house the megillah scroll,  worthy of respect to the scroll and the place it holds in his family history.  He wanted something to pass down to his children in time.  In short, he wanted an heirloom piece.
The Process of Figuring Out What Austin Wanted
I started out  by asking a variety of questions:  What size is the parchment?  What is the diameter when rolled up?  Do you want a horizontal or vertical case?  Do you want it sewn into the case, and if so, with one handle or two?  What hue of wood do you want?  Would you like an inscription on the case?  A stand for the case?…etc
In this way I could  process what Austin wanted and hone in on the type of case and the style that he desired.  In addition,  I sent photos and url's of previous works, on the web or from my own archives, so that Austin could  get a visual of  wood colors and  styles.
Multi Wood Mosaics
Austin wanted a case with many varieties of woods.  At Etz-Ron, I use over 30 different types of woods in my multi wood mosaics, and they are hand inlaid into the base wood.  In addition to the different types of woods in the mosaics, he also wanted each of the six base panels to be a different wood. He felt this would capture the playful essence of Purim.  He wanted a stand, and he wanted the megillah case to be able to detach from the stand.  He wanted the megilah case inscribed.
Austin and I exchanged no fewer than 10 emails, and finally, I was able to describe to him exactly what he wanted. Then with his permission and commission, I proceeded to make the scroll holder.
Austin was moved!
Seven weeks later, Austin reported that he teared up when he set his heirloom parchment scroll into it's new case.  There, in prominent display on his breakfront, it's an every day reminder of his unique family history.  I felt honored to have a part in making a new home for such a treasured scroll.