Baby Time – Baby Co-Sleeper Keeps Baby Close
My second grandchild is soon to be born, and  my third is also on it's way. Do you want  to be close to your newborn baby at night?  Do you know someone who would like this?
A baby co-sleeper is the best way to keep baby close to you at night while keeping you comfortable in your own bed.  Because I am a woodworker and a grandmother, I've found this the perfect gift to give.  Should you want one for your newborn, I can make one for you as well.
3 Variations of the  Baby Co-Sleeper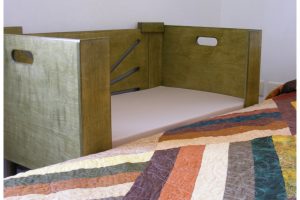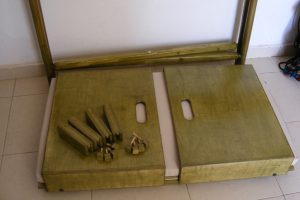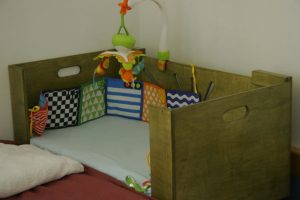 I have 3 different variations of co-sleepers. The first is a baby co-sleeper that attaches to the side of the bed, or it can be a free standing crib/ bassinet.  The unit folds down for compact storage for travel or while it awaits the next new baby. The leg assembly can be customized to every bed height and  paint color is optional.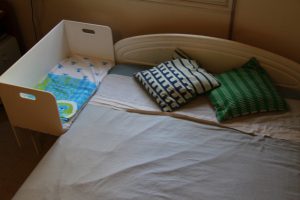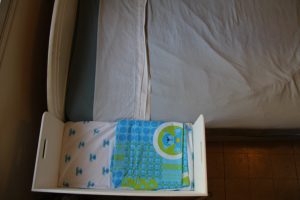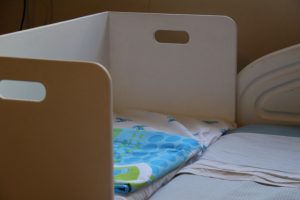 The second variation is an affordable co-sleeper attached to the mattress lip on the bed- and is further supported by a set of adjustable legs on the outside of the crib. If you don't have a mattress lip on your bed, it can be configured in a different way. It is a safe place to lay the baby down and also get a good nights sleep.  This co sleeper has 3 sides and can be used when unattached from the bed by wedging it close to a sofa or wall.
The third variation, while not a co-sleeper per say, is a convertible bassinet and double swing that can be used both inside or outdoors. My oldest grandchild virtually lived in the swing bassinet as a baby and the swinging motion is a great soother. When she was able to sit, it was configured into a double swing for her and a friend to play on. She still loves to swing.  You can buy the plans for this hanging bassinet/double swing from me to make it yourself, or you can order it ready made.
Want more information?  Interested in ordering?  Contact me